Be Prepared for a safe summer on the Coast
Summer is an amazing time to be on the Central Coast, both for locals and visitors that head to our spectacular beaches, waterways and outdoor spaces and enjoy the hospitality of restaurants and facilities across the Coast. 
 
This is the time that most of us celebrate with family and friends, holiday, relax and enjoy the great outdoors but there's a few things to keep in mind to keep ourselves and others safe.   
 
Central Coast Council's 'Coast Summer Safety' campaign highlights messaging that's relevant to this year's season – being informed on the current situation and advice from NSW Health regarding COVID, being prepared for emergency events and severe weather, staying safe in around water, and other important safety reminders for when 'out and about', travelling and celebrating. 
 
Coast Summer Safety is all about providing simple steps to keep safe this summer, so that it is a great time for everyone.  Explore top safety tips across the below categories:  
Be COVID-safe
With more people on the Central Coast across the summer, and with a new COVID-19 wave in NSW, we must remember to be informed of the current situation and advice from NSW Health regarding COVID to protect yourself and others.
For the latest COVID news, advice and information for people in NSW, go to www.nsw.gov.au/covid-19
Safety on the beach and around water
Spending time in and around water is a big part of summer on the Coast but wherever there is water there is danger, and safety steps need to be followed.
Safety on the beach
Watch the below video for simple steps to follow to help have safe and fun trips to the beach.
Always swim or surf at patrolled beaches 
No flags means no swimming 
Swim between the red and yellow flags 
If we can't see you, we can't save you 
If you get into difficulty, float, raise your arm, stay calm, and yell for assistance 
Help our lifeguards when enjoying our beautiful beaches: 
If you are unsure of conditions, ask the lifeguard in attendance.  
Read and obey the signs and directions from the lifeguard. 
Never run and dive into water, as the depth can change regularly. 
Children should be supervised by an adult at all times. 
If you get into trouble – float and stay calm.   
Always 'Slip, Slop, Slap, Seek and Slide to remain sun safe. 
Find out which Central Coast beaches are patrolled, open/closed status, which beaches are dog friendly and other important safety tips on our beaches webpage.
Rock fishing
Rock fishing can be extremely dangerous, and due to the number of rock fishing fatalities in NSW it's now law to wear a life jacket when rock fishing – no matter what your skill level or experience. 
 
Anyone who is helping you rock fish, as well as children in your care, MUST also wear an appropriate lifejacket. 
 
Watch the below video for key things to remember if you are planning to go rock fishing.
Rock fishing safety tips: 
Wear a life jacket – it's the law, fines of $100 applies to those fishing without one!
Never fish by yourself and inform others of your plans
Wear light clothing and appropriate footwear
Carry safety gear
Fish only in places you know are safe
Be aware of local weather, swell and tidal conditions before going fishing
Observe first, fish later
Plan an escape route in case you are washed in
Stay alert
Stay safe, avoid the fine. 
 
Find out more about important safety steps for rock fishing. 
Pool safety
It is vital to keep watch and supervise children at all times when in and around water. 
 
Own a pool?  If you own a pool (including an inflatable pool), you are required to have a well-maintained child resistant pool barrier to prevent unsupervised access.  In NSW, the owners of properties with a swimming pool and/or a spa pool are required to register their pools and spas on the NSW Swimming Pool Register. Find out how to register your swimming pool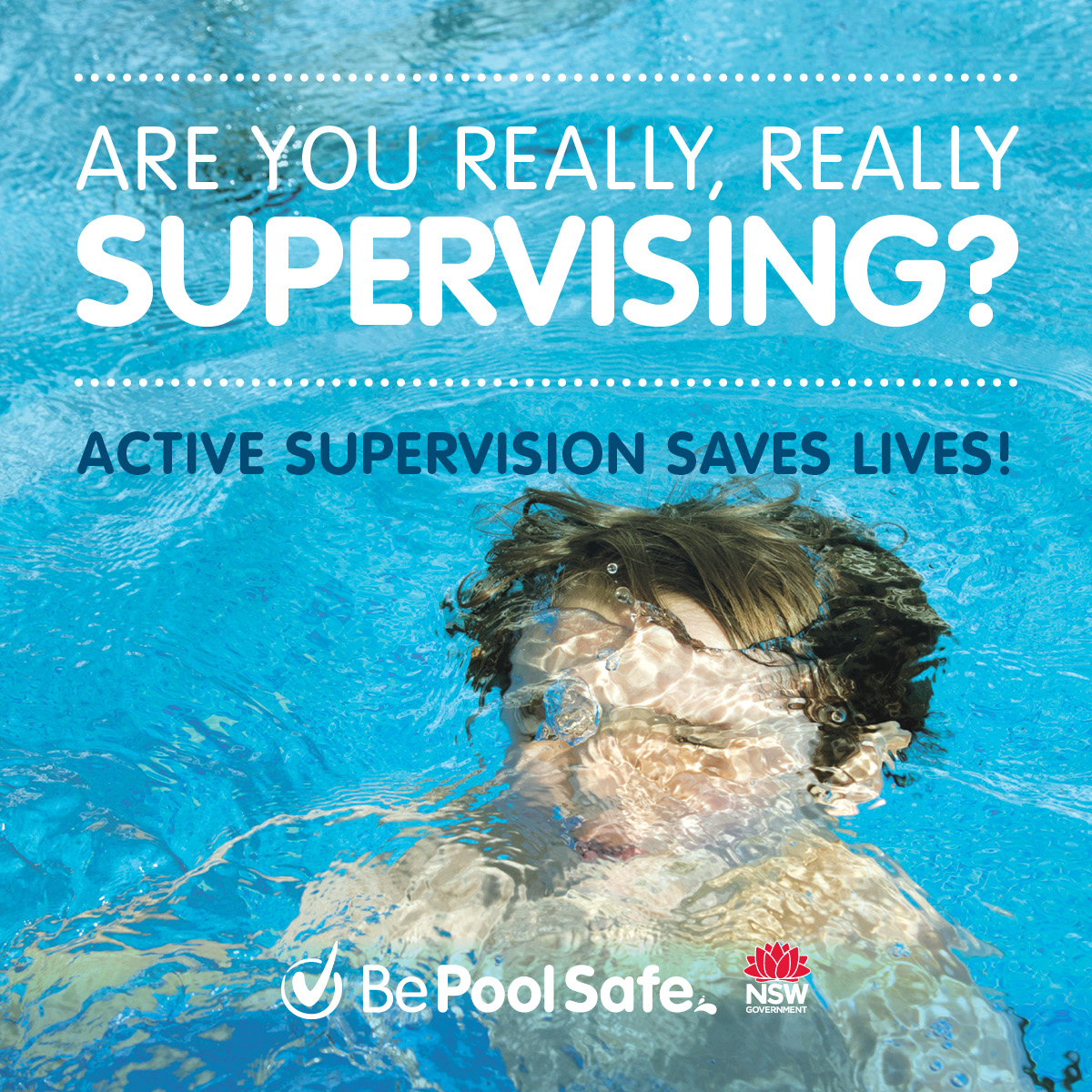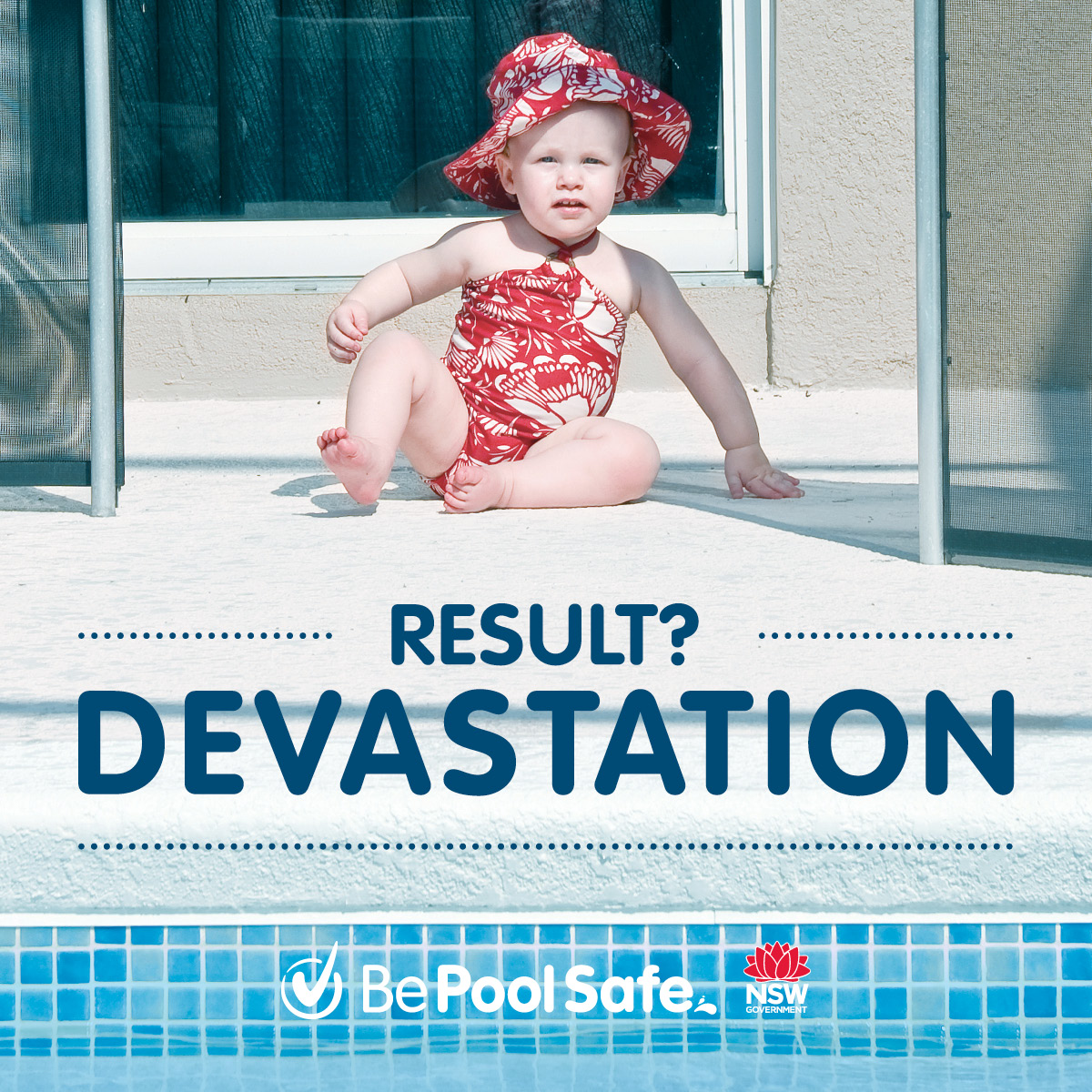 Learn to swim and be water aware
Teach your child to be water confident by making them 'water aware'.  It is important to discuss water safety with your child and set some rules about what to do around water and how to use them consistently in all water environments.
Council offers a comprehensive Learn to Swim education program, as well as lessons at all of our pools.
Supervise, create rules and be safe this summer around pools.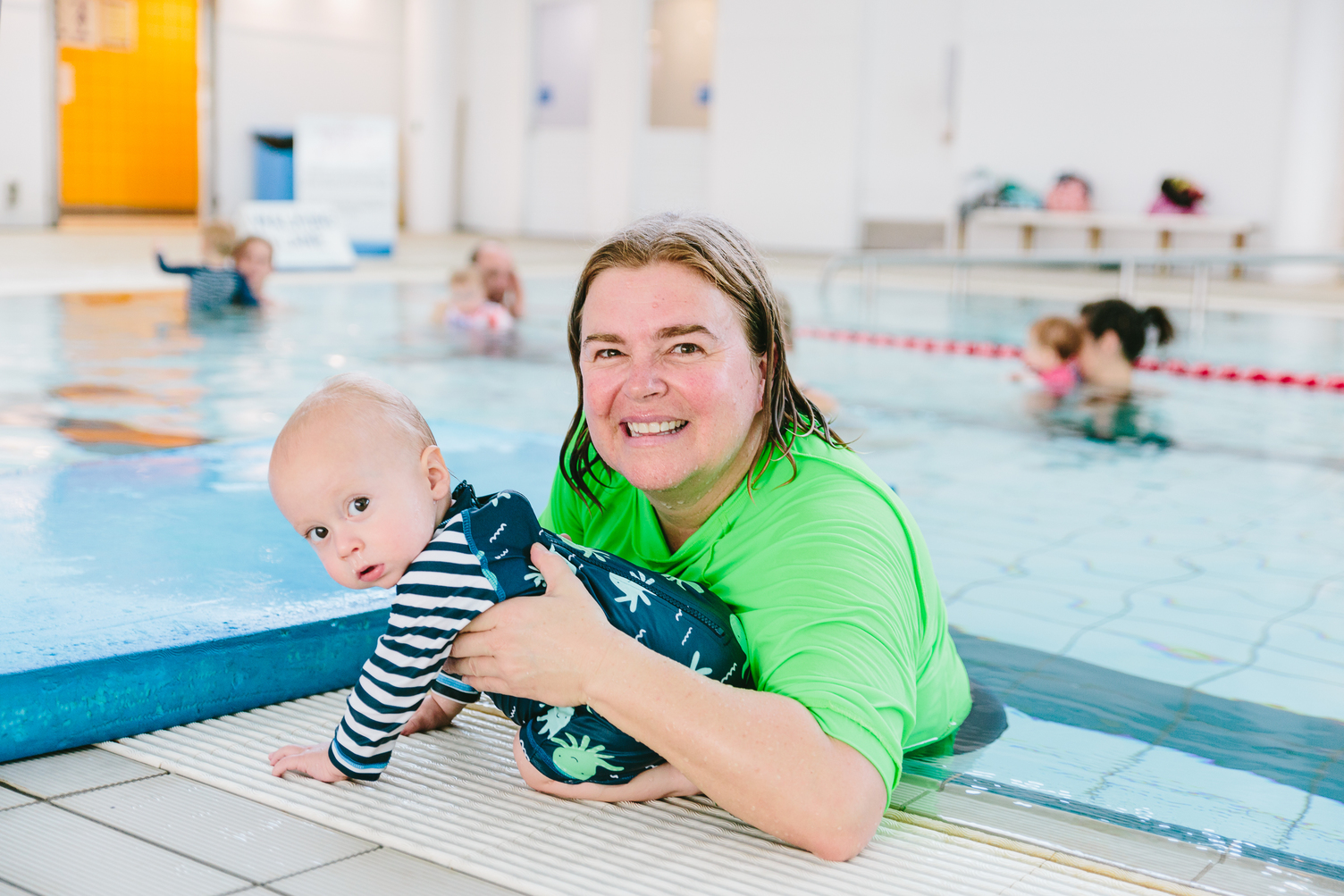 'Get Ready' for severe weather and emergency events
We know that severe weather and other emergency events will continue to be a part of our lives on the Central Coast and we need to be ready for bush fires, floods, or storms.  
   
Whether you're new to the Coast or have lived here for decades, now is the time to prepare a current plan to help protect yourself, your family and your property.  
 
Follow these easy steps to 'Get Ready':   
  
1.    Know your risk – It's important to think about the area you live in, your circumstances and the types of disasters that could affect you
2.    Plan now for what you will do. Ensure you have a current emergency plan in place which considers your risks, abilities and resources, plus an emergency evacuation kit ready to go
3.    Get your home or business premises ready. Prepare your property to best withstand emergency events and ensure you are adequately insured
4.    Be aware and keep informed. Find out in advance where to find critical information in the lead up to, or during, an emergency event
5.    Look out for each other. Don't wait for an emergency to build community networks with neighbours
   
For more information and resources on preparing for storms, floods, bush fire, heatwaves and other emergency events, go online to www.centralcoast.nsw.gov.au/emergencies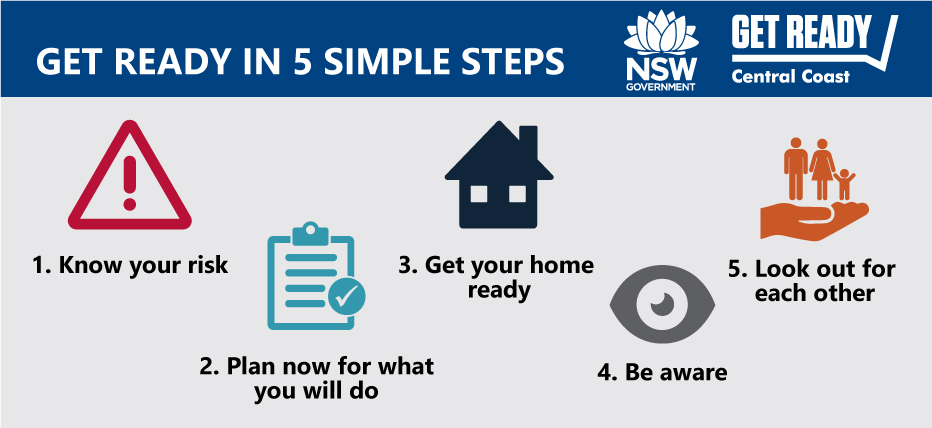 Safety out and about
As we get 'out and about' this summer we have to be extra careful to keep children safe. We also need to keep a close eye on our four legged friends.
Walking and cycling safely
Summer is the perfect time to get 'out and about' on foot or on your bike to explore the many great walking and cycling spots across the Coast.
It keep yourself and others safe, it is important to follow simple steps to walk and cycle safely.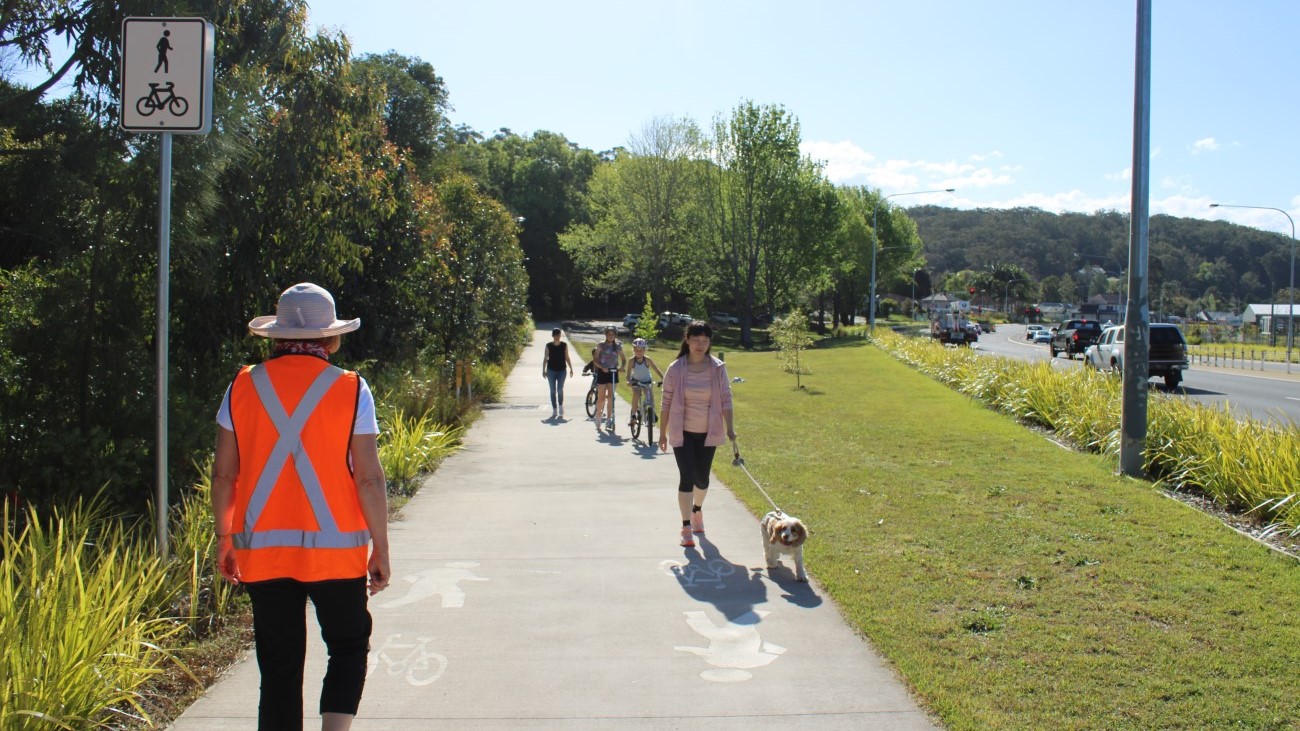 Keeping kids safe
This holiday period, there'll be plenty of kids visiting our holiday spots.
Drivers take extra care as excited children may be on the road walking/cycling to the beach or playground
Mums, dads, grandparents and other carers, please hold your child's hand and keep them safe, so everyone has a wonderful holiday!
Children must be safely fastened in the correct child  car seat for their age and size. To find out more, visit www.childcarseats.com.au
Children need to be watched at all times when they are in or near water – find out more about safety at the beach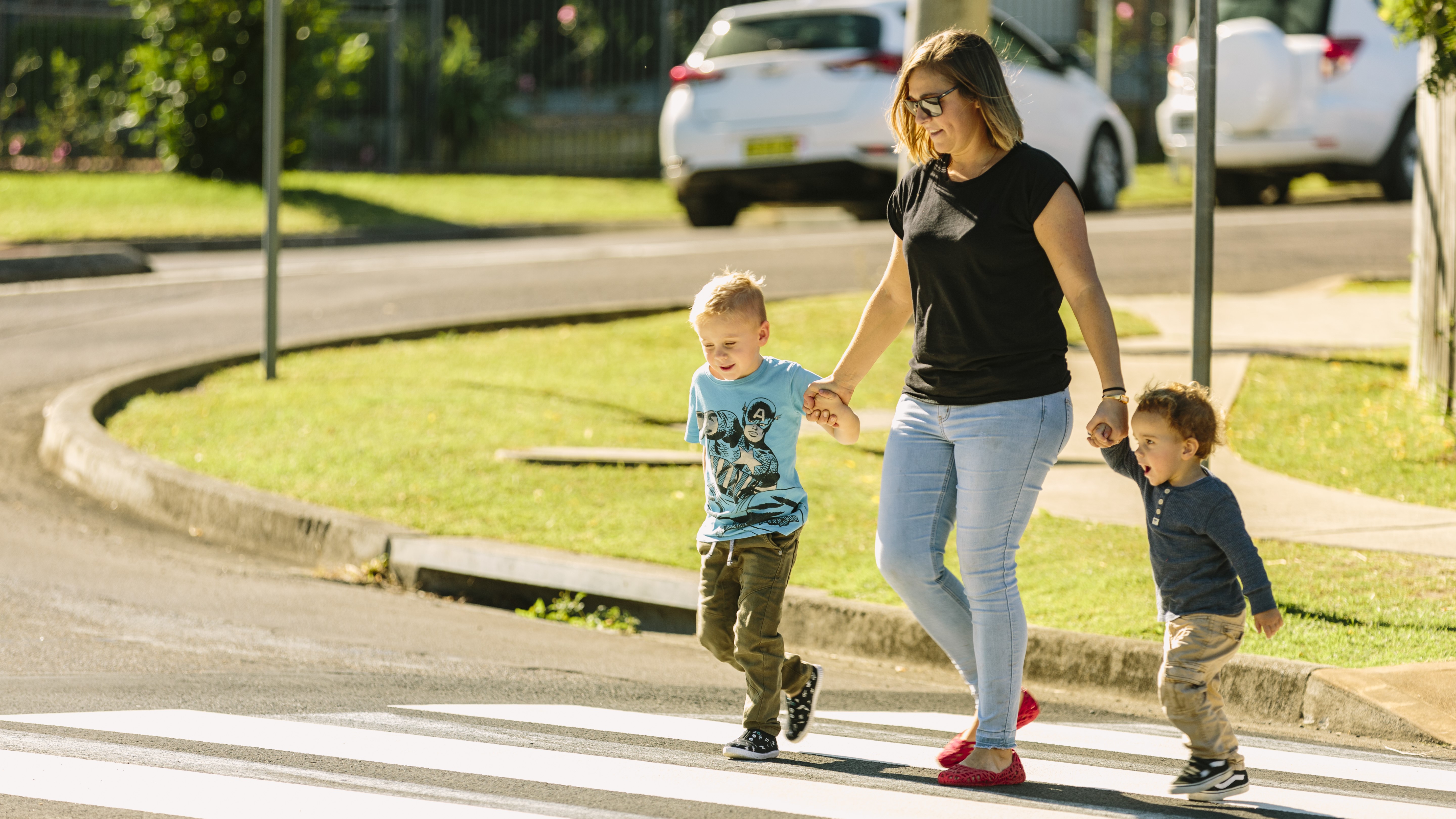 Pet safety
When out and about it's important that dogs are kept on a leash, except when in an allocated off-the-leash area. Council provides a number of off-the-leash areas but owners must ensure their dog is under effective command control.
Dogs and cats are prohibited to enter schools, shopping centres, public-bathing areas including beaches (except in designated areas), food preparation areas, sporting fields, wildlife protection areas, and come within 10 metres of children's playground equipment
Remember to always get permission from the dog owner before approaching or patting a dog- if the owner is not present its best not to attempt patting the animal
Find out more about responsible pet ownership.
Busy tourist hotspots
The Coast's well-known attractions will be very busy across summer so why not explore our wealth of lesser known gems and have a new experience.
With 41 beaches (15 patrolled), five expansive national parks, creative experiences, farm gate trails and hundreds of local businesses the possibilities are endless.
Find out where you can explore the Coast's hidden gems.
Safe travels
Whether you're heading to the Coast for a holiday or a Coastie off on a trip away or out-and-about enjoying your own backyard, it's important to plan for a safe trip.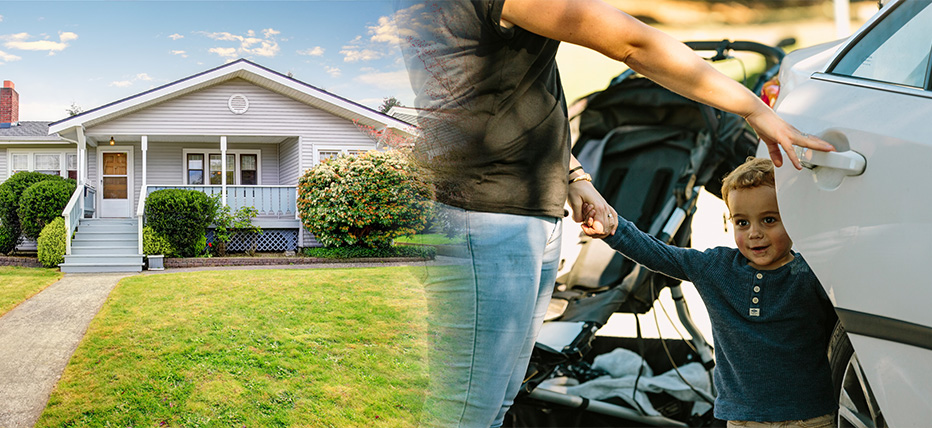 Prepare for your trip
Be prepared before you go away
If your vehicle is due for a service, have it done before you head off
Check your tyres, oil and water before you leave and while you're away
Breakdowns and travel delays can occur, take some water and food
Double Demerits
Over the festive break, police will be targeting:
Speeding
Illegal mobile phone use
Not wearing a seatbelt
Not using a child restraint
Riding without an approved motorcycle helmet
Speeding – Stop It… Or Cop It
Drivers, riders and all road users breaking the road rules can be caught anywhere and at any time
Please make road safety a priority and slow down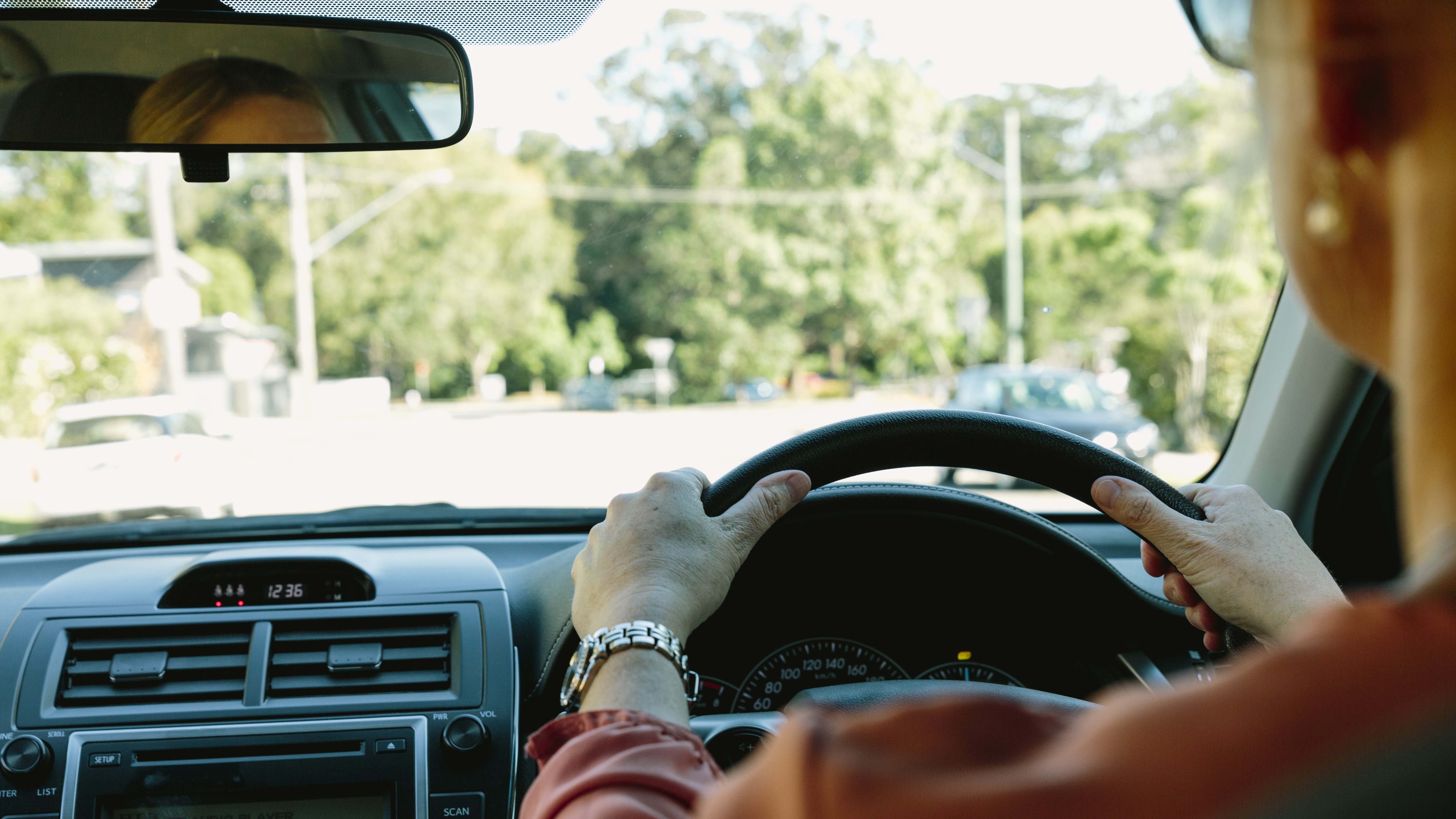 Keeping your home safe
Lock all doors and windows and remove valuables from plain view
Ensure sheds and garages are secure and gates are closed and don't leave ladders or gardening equipment laying out
Keep a list of emergency numbers by your phone or saved in your phone and ensure your phone is charged. In case of an EMERGENCY or a crime in progress call Triple Zero 000
Communication with your neighbours builds a safer community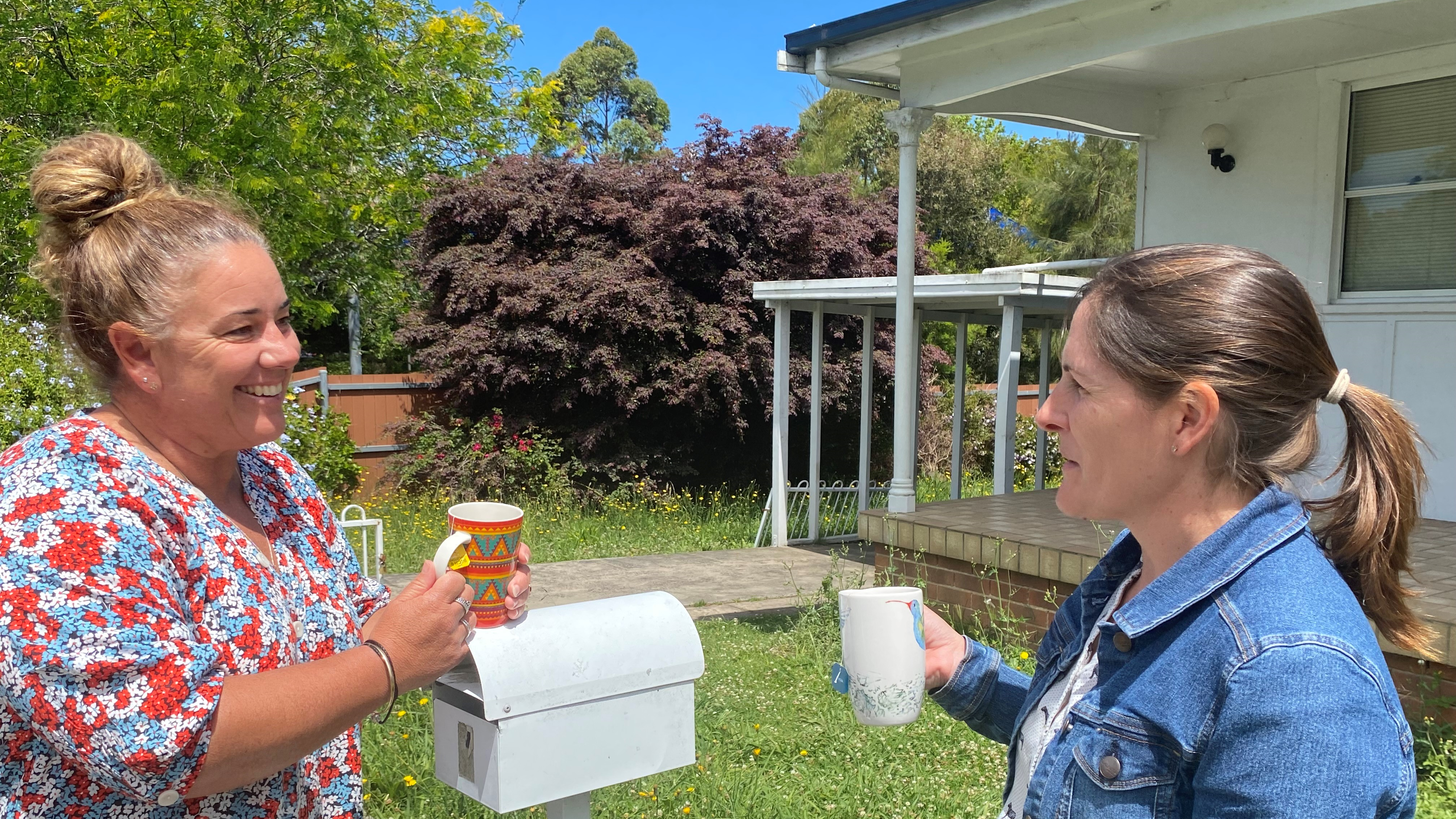 Safe celebrations
The festive season is a time for celebrating but if alcohol is involved you need to plan ahead.
What's your Plan B?
Planning on celebrating with family and friends this festive season? If you're having a drink, don't drive. What's your Plan B?
Water and alcohol don't mix
Refrain from drinking alcohol when entering water and when supervising children near water.  Find out more about pool safety.
Drinking and boating don't mix – when you're driving a boat, the rules are the same as driving a car