Repair of potholes from recent storm events
The combination of an extended higher than average rainfall pattern over the last six months and the increased rainfall intensity during February/March 2022 (and continued wet weather) has resulted in an increase in potholes.
Since February, Council has filled over 32,000 potholes. This financial year to date, we have filled over 71,000 potholes in total!
Council's Road Maintenance staff carry out proactive inspections of road pavement in a cyclic schedule every three months, resources permitting. The timing for undertaking works to address these identified defects is assessed on a risk basis.
Pothole patching is a temporary solution to reduce safety hazards and used to treat isolated defects in the road network.  It is also the only solution that can be underway during wet weather. During dry weather more permanent pothole repairs and other solutions can be applied.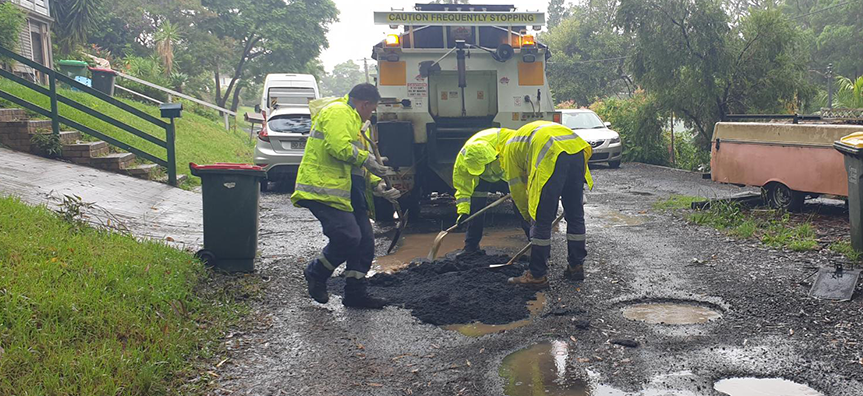 Image: Pothole repair using cold mix which is used to temporarily repair potholes during wet conditions.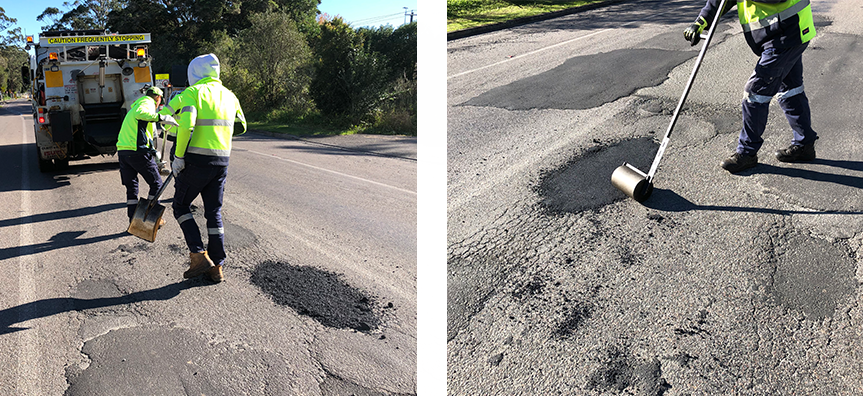 Image: Pothole repair using hot mix, which is used to repair potholes once conditions have dried out and results in a more permanent treatment.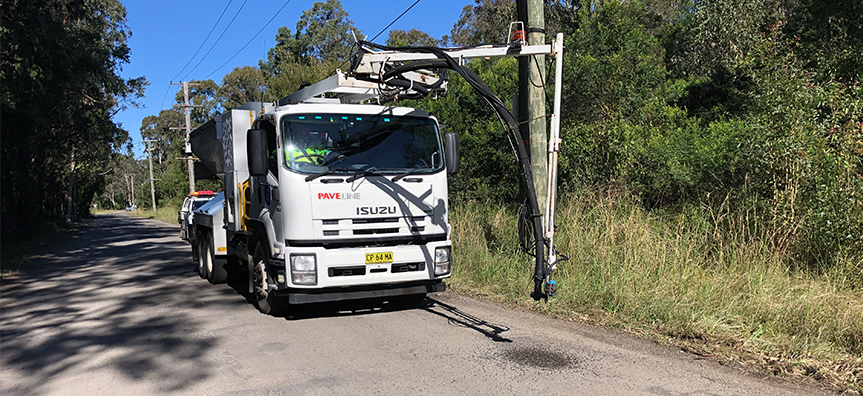 Image: Jet patcher truck, mainly used in less trafficked areas, undertaking small pothole repairs.
Heavy patch repairs provide a medium-term solution where a section of the road is treated. For the longer term, renewal works are undertaken which include rehabilitation and resurfacing of the pavement.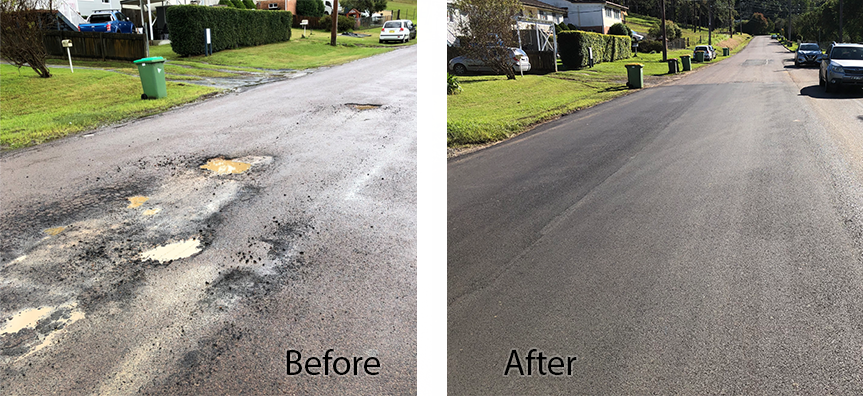 Image: A heavy patch, a longer-term temporary pothole repair technique used for larger, more significant potholes, when the weather is favourable.
Council is currently exploring further opportunities to obtain funding associated with natural disasters to help with road restoration works to repair damage caused by weather events.  This external funding will help Council return the region's roads and related infrastructure back to a satisfactory condition.
Council is also investigating innovative approaches to repair the road network. These measures are still being investigated to determine their suitability.
During May 2022, Council repaired over 10,000 potholes!
Councils' standard average pothole output is 5,000 potholes filled per month. As of 31 May 2022, based on a short term focussed inspection program, the pothole backlog has peaked.
The good news is that Council staff have now completed pothole inspections across the 2,000km road network.  We have also secured more resources to repair the remaining potholes and anticipate clearing the backlog by the end of June 2022, provided weather conditions remain clear. This will see  a return to regular pre-storm service levels of approximately 2,000 potholes scheduled for repair at any one time, which roughly equates to one pothole per kilometre.
For the month of May 2022, approximately 10,859 potholes have been repaired and around 8,108 potholes remain scheduled for repair.
Pothole backlog map
The below map indicates the backlog of reported potholes as at 31 May 2022 on Council's road network. Council acknowledges that further potholes may appear which will be captured in Council's maintenance management system, not on this map. The purpose of the map is to show the community the extent of the problem, and our progress in addressing the backlog of potholes.
Motorists and road users should exercise caution and drive to the conditions on the road network, whilst pothole repairs are being undertaken.
Council thanks the community for reporting potholes across the region. In 2021, prior to any weather events, our monthly average of customer requests for pothole repairs was 273 per month. During the weather events in the first four months of 2022, we received an average of 1052 each month, that's an increase of 285%!
Council has also recently prepared a Pothole Strategy to deal with the increased potholing across the road network which identifies short, medium, and long-term strategies to manage and prevent potholes.
Short term – primarily pothole filling with some operational small area, standard design, heavy patching based on hazard inspection.
Medium Term – formally designed larger capital heavy patching based on maintenance demand reporting and condition rating data from the Pavement Management System.
Long Term – road segment renewal treatments based on advanced deterioration modelling in the Pavement Management System.
Note: This strategy excludes State Road pothole patching and larger more permanent works on behalf of TfNSW.
The below graph shows the number of potholes outstanding at the end of each month (from July 2021 to May 2022) and the number of potholes repaired at the end of the month. You can see the steep increase from February through to May.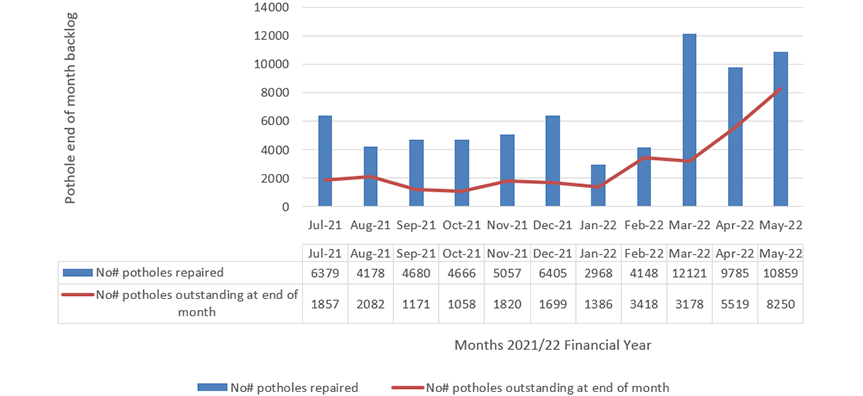 The best way residents and community members can assist Council manage and schedule repair of potholes, is to report them. Potholes can be reported to Council's 24/7 Online Customer Service Centre which is linked to Council's website www.centralcoast.nsw.gov.au
We strongly discourage residents and community members entering the roadway to highlight potholes as an alert to motorists as it puts themselves and road users in a dangerous position and at risk of harm.
We thank the community for their patience and understanding while our crews work hard to repair the road network to keep our community travelling safely.
For more general information about pothole's visit Council's Pothole Fact Sheet.