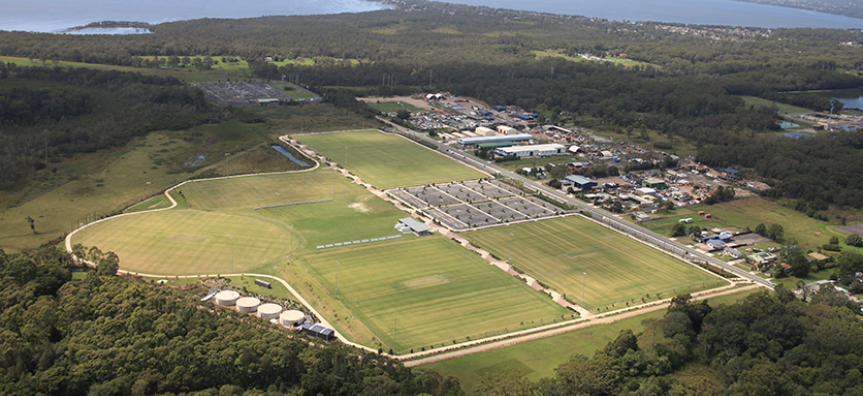 The Central Coast Regional Sporting & Recreation Complex (The Complex) is a high quality, multi-use facility designed to accommodate regionally significant, mass participation sporting and recreational events and bring social, health and economic benefits for the local and wider community.
The Complex sits on 18.28 hectares of land at Tuggerah and consists of nine playing fields, an amenities building (that includes accessible toilets, change rooms, canteen and store rooms), over 2km of shared pathways, landscaping, car parks and bus zones for drop-off and turning.
The facility is located close to the M1 freeway and alongside train and bus public transport. Its unparalleled location near Tuggerah and Wyong town centres, a major shopping complex and an abundance of natural waterways, bushland and coastal beaches makes it a highly connected destination.
View the  CCRSRC Prospectus 2021-22.
See the  llustrative site plans or view the
illustrative amenities plans.
Project overview
Central Coast Council is dedicated to the economic development of our region and invested $13.71million towards the $23.71million to build stage one of this Complex, which was jointly funded with the support of a $10million grant from the Australian Government.
The Complex was designed to be built in two stages, with the first and major stage completed in 2019. Council are continuing to progress plans for the second stage of works which will see the development of a multi-purpose indoor complex. Once fully developed, the Central Coast Regional Sporting & Recreation Complex will be the first-of-its-kind facility for the Central Coast region
More information
For further CCRSRC Sports Development, Events and Activations information, please contact Karen Lightfoot on email Karen.Lightfoot@centralcoast.nsw.gov.au or contact Council on 1300 463 954.
To view the complex open/close status, please visit the Sportsground closure status page.
For a safe return to competitive sports follow Sports NSW Participant and Spectator Sport Venue guidelines.
Booking an event
Since its official opening in March 2019, the complex has already welcomed over 100,000 participants and supporters to scheduled events and has successfully hosted a range of sports including soccer, rugby league and union, baseball, oztag, Australian rules and touch football.
The Complex is far more than just an outdoor sports venue, it's also perfectly designed to accommodate other recreational activities or social and leisure events such as markets, expos and festivals.
View the  CCRSRC Prospectus 2021-22.
Upcoming events
See our What's on page for upcoming events and training information.