Generally known as a driveway, a Vehicle Access Crossing (VAC) is an access point to enable a vehicle to cross from the road to an adjacent property. The VAC is the part of the driveway that crosses the nature strip from the road pavement to the property boundary as illustrated in the typical residential driveway layout below: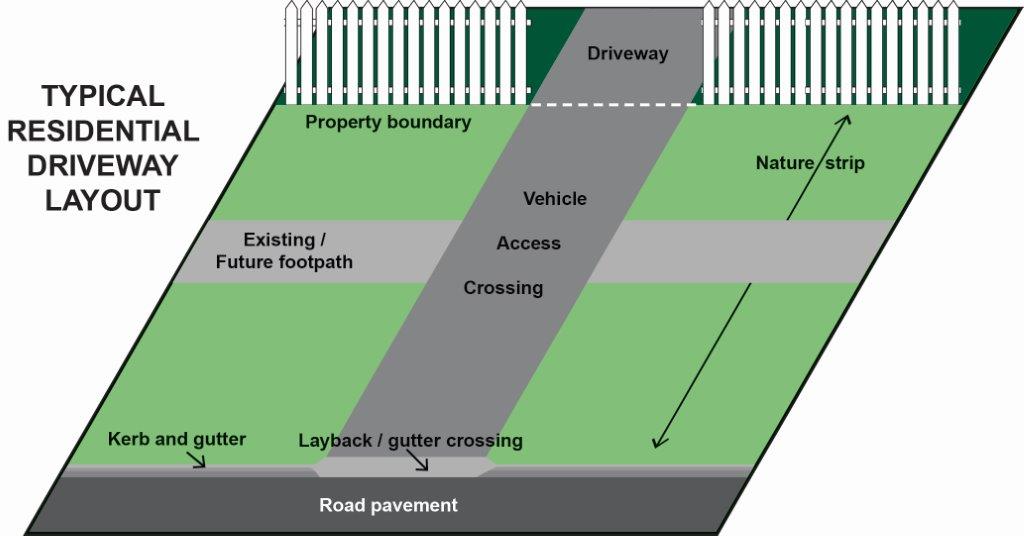 Please note: the above illustration is an indication of what the typical residential driveway entails, actual residential driveways vary from site to site.
Approval must be obtained from Council to construct a new or alter an existing VAC and VAC approvals are required for all locations with or without kerb and gutter. This includes residential, rural, commercial and industrial areas.
Why do you need approval from Council to construct your VAC?
The NSW Roads Act 1993 requires Council consent to be obtained for works within the road reserve to ensure all works comply with Australian Standards and Council policies, standard drawings and specifications. Council needs to ensure new VACs and alterations are safe for both vehicles and pedestrians, do not conflict with existing infrastructure such as signs, power poles and street trees, do not conflict with future road work and infrastructure plans, adequately manage stormwater and do not create hazards within the nature strip area.
How do you obtain approval to construct your VAC?
Applications must be submitted online via Council's Online Services and a How to Guide has been provided for guidance during the online lodgement process. Applications need to include a completed copy of the Vehicle Access Crossing Application form and appropriate fees paid as outlined in Council's fees and charges. Council also requires submission of appropriate drawings with every vehicle access crossing application and a template is available. In accordance with Council's fees and charges, an additional fee may be required when a Vehicle Access Crossing is deemed non-standard and requires engineering design.
It's important to recognise that even if your development approval has driveway conditions, development consent, complying development consent and/or a construction certificate; this is not approval to construct a VAC – you must still obtain approval from Council to construct/re-construct/modify a VAC before construction of the VAC commences.
How long does it take to obtain Council approval?
A straightforward application will usually be processed within 14 to 21 days. If the VAC is more complex and requires a site specific design, allow 28 days. A site specific design may apply in cases where the VAC is steep, contains multiple levels or may be affected by future road or infrastructure works. Please note: these processing times are an indication of average processing times only and the actual processing time for your application may vary.
What is involved in the VAC process?
The Vehicle Access Crossing Process Map shows the process undertaken by Council for VACs relating to new or existing single/secondary residential dwellings and existing industrial/commercial development.
If a development consent requires a VAC to be constructed as part of a development other than a single residential dwelling or existing industrial/commercial development, such as dual occupancies, residential units, industrial developments and/or commercial developments, a Roads Act/Authority approval is required and a completed 'Application for – Subdivision Works Certificate or Construction Certificate - Roads Act Works Approval – and other Development related Civil Works' found on Council's website must be submitted to Council with appropriate design drawings.
What if the access road is not owned by Council?
Council will not approve vehicle access to a property within a Crown Road or on a State road without prior approval from the appropriate State Government authority. If the access road to your property is a Crown Road, you must first obtain written approval from the appropriate State Government authority and submit this approval with your application to Council.
If the access road to your property is a State road managed by the Roads and Maritime Services (RMS) – such as the Pacific Highway and Central Coast Highway – you must first obtain written approval from the RMS and submit this approval with your application. 
Does Council allow secondary VACs?
Council typically does not allow secondary VACs as it reduces availability of on-street parking and increases risk to pedestrian and traffic safety. However, secondary VACs may be considered for approval in the following circumstances only:
Your property has more than 20 metres of street frontage, or
Your property can be accessed by more than one street, or
Your property is situated on a corner block, or
A secondary access is required to address significant safety concerns.
Prior to submitting an application for a secondary VAC, it is recommended that an enquiry be submitted with Council's Infrastructure and Access Crossing Officer to discuss site specific requirements.
What construction requirements apply to constructing a VAC?
Driveways must be constructed in accordance with relevant Australian Standards and Central Coast Council's Standard Drawings and Specifications.